On August 29th, the 17th China International Home Textiles and Accessories (Autumn and Winter) Expo will be held at the Shanghai New International Expo Center. Before the exhibition, the organizing committee focused on the research and promotion activities of the home textile market in Zhuzhou, Changsha, Hefei, Xi'an, Shenyang, Zhengzhou, Shanghai and Beijing. The market responded enthusiastically.

Xianghe Furniture City's official website Recommended reading Search: Home Textiles Show Xianghe furniture procurement section of the China Furniture Association

Event playback: The 17th China International Home Textiles Exhibition was warmly received before the concert

The publicity and promotion activities were held before the 17th China International Home Textiles Exhibition, and the market responded enthusiastically. During the research and promotion process, the organizing committee communicated with the relevant management departments and merchants in the professional market where they visited, and introduced the development status of the home textile exhibition for 16 years, especially for the bedding manufacturers of many well-known brands in China. The exhibitors of fabric manufacturers and non-woven curtain manufacturers, wallpapers and accessories companies made detailed investigations and sent invitations to the exhibitions to many merchants. Zhuzhou Golden Triangle Bedding City, Changsha BMW Home Decoration Plaza, Hefei Baoye Home Textile Plaza, Xi'an Wenyi South Road Fabric Wholesale Market, Shenyang Wuai Market, Zhengzhou Fengle Home Textile Market, Shanghai Jinsheng International Home Decoration Plaza, Beijing Dahongmen Fangshi International The management departments of well-known professional markets such as China Textile City and the majority of merchants have shown high participation enthusiasm.

With the rapid development of China's economy and the improvement of people's living standards, China's home textile industry is showing a boom in production and sales. As the wind vane of the home textile industry, China International Home Textiles and Accessories (Autumn and Winter) Expo began to pay attention to the development of China's textile wholesale and retail market five years ago. Every year, it visits and researches some professional markets, promotes exhibitions and guides exchanges.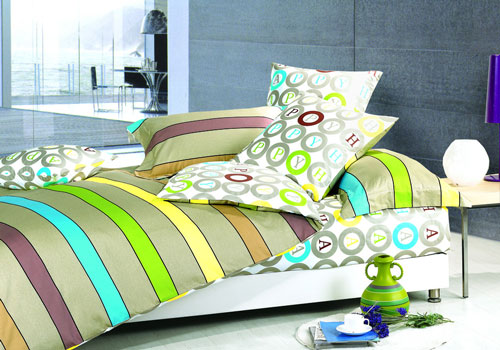 Enterprise: China International Home Textiles Exhibition helps transform brand operations

According to Yang Zhaohua, last year's home textile exhibition tried to introduce wallpapers, accessories, non-woven curtains, accessories and other products, which was recognized by exhibitors and visitors. The home textile exhibition has a prototype of everyone. This year's home textile exhibition will further make the characteristics of everyone's spinning. This improvement and improvement is to better meet the needs of exhibitors and buyers.

When the brand enterprises in the home textile industry sell at retail terminals, they find that a single category of products can no longer meet the needs of consumers, and can not meet the needs of franchisees. At present, the retail outlets in the home textile industry are still relatively fragmented, and consumers cannot achieve one-stop shopping, which is very inconvenient. Whether it is to satisfy the needs of consumers or to meet the needs of franchisees, it is imperative to introduce "everyone's textiles" into the terminal field.

Yang Zhaohua has always attached great importance to channel innovation. He hopes that more good brands will not only display new products at the exhibition, but more importantly, show their innovation in channels and strong support to channel providers, and guide the industry in one direction. This year, the Home Textiles Exhibition will continue to promote the intangible cultural heritage. Yang Zhaohua emphasized that Chinese textile products should seek inspiration from Chinese elements, refine and sublimate, instead of copying and translating, and reintegrating Chinese elements into their own styles.

Culture: China International Home Textiles Exhibition promotes international exchanges

This year, the International Pavilion will occupy one and a half pavilions, which is enough to show that international culture will be here. Home textile products from Italy, Turkey, India, Germany and other countries and Chinese textile products stand on the same stage. Here, communication is greater than competition. With the increasing specifications of China International Home Textiles Exhibition, it is getting closer to the Frankfurt Home Textiles Exhibition, which allows Chinese designers to gain insight into international fashion trends without going abroad. Chinese designers and home textile dealers need to get different perspectives from overseas exhibits.

Similarly, foreign designers and buyers also need such a platform to uncover the mystery of the ancient kingdom. They are eager to know why China is developing so rapidly now. Why is China's home textile industry steadily rising all the time? Why is China's purchasing power so strong? The most important thing is, what kind of international products does China's domestic demand market need?

This year, another 400 square meter exhibition area was left to the release of fashion trends, using more space to show more content. This time, the organizer cooperated with the Italian Constantine Design Company to jointly release the fashion trend, which is to hope that the popular trends displayed will be more international and play a better guiding role for domestic and foreign enterprises. However, Yang Zhaohua also pointed out that the fashion trend should be internationalized and localized. Indeed, international trends can be reflected everywhere, and international trends that combine Chinese characteristics are rare, both in line with fashion trends and local needs, which is especially important for Chinese local designers.

Industry: China International Home Textiles Exhibition Guides Development Direction

Good exhibition information is large, it is necessary to gather resources, provide rich information for exhibitors and audiences, inspire the creative inspiration of designers and researchers; it must be professional enough to guide the industry to actively explore in terms of channel innovation and market innovation. Direction of development. It can be seen that China International Home Textiles Exhibition is working hard in this direction and has achieved great results. At the beginning of the exhibition of the home textile exhibition, the venue was already full of reservations. As the organizer, the home textile association did not rush to end the exhibition activities, but carefully selected the exhibitors. "We are not selling booths." "We are not the second landlord." Yang Zhaohua's two words are impressive. Through screening, the level of exhibitors has been greatly improved. Finding more and better companies and brands, strengthening mutual exchanges between enterprises, leading industry trends through product display, and setting industry examples are the requirements of the organizers.

Since last year, the exhibition has begun to guide exhibitors to save energy and reduce emissions, and green exhibitions. Many companies have responded with environmentally-friendly materials and even used the exhibition props twice. It is reported that advocating a low-carbon economy is still an important direction guided by this year's exhibition. The organizers said that they hope that the company will feel the "green trend" in the exhibition and extend this spirit to the daily production and operation of the company.
A bedroom's not complete without a small bedside table as your nocturnal companion.Bedside Tables are unsung heroes of the night, keeping your books, alarm clock and glass of water within fumbling distance. Ours come in different styles and match our beds and other Bedroom Furniture. Some have doors or drawers to hide your current bestseller from borrowers and all have prices that won`t disturb your sleep.
Give your bedside instant style with our bedside table. The sleek mid-century modern design features crisp lines and simple wooden legs
Bedside Cabinet,Bedside Tables,White Bedside Cabinets,Narrow Bedside Table
FuJian YuanFu Import&Export Trading Co., Ltd. , https://www.fjyffurniture.com